Mens Dress Clothes
Choosing the right mens dress clothes can be easier than you think. Here are some tips.
When you need to dress up, its important to know the basics. When you're deciding how to dress for work, the main thing you need to think about is how you want to be perceived.
One maxim you've probably heard is you should dress for the job you want, not the one you have, and I think that's good advice.
The other thing you should take into account is how everyone else dresses for the job. If the code is a collared shirt and slacks, you need to look as sharp as possible in a collared shirt and slacks.
If people are wearing polos and khakis, make sure yours fits well and goes together. Two guys wearing the exact same outfit can send out two complete opposite messages about themselves; I'm sure you've witnessed this to some extent.
Most people you see at work look frumpy and boring. They're clothes don't fit well, or their clothes are worn out, or their clothes just straight up suck, and you can tell.
So all you have to do to stand out is wear nice clothes that fit well and are taken care of. And this doesn't mean that you need an Armani suit and $2000 shoes.
You can get nice dress clothes for a good price at TJ Maxx or Ross for example.




Watch my video reviews of the best products for men here...




Mens Dress Clothes Necessities
There are a few things you should definitely have in your work wardrobe. For simplicity sake I'm going to speak to the majority of guys who are supposed to wear a button-down shirt and slacks to work.
Mens Dress Clothes: Shirts
These are a clean, classic look that you can always dress up with a cool tie or a vest or a sweater.
You should have 3 white ones, 2 blue ones, and a couple other choices in colors that look good on you: a yellow one maybe, sometimes even a pink or a black one.
Make sure they fit well and are mostly cotton; the more polyester in a shirt, the less cool and high quality it is.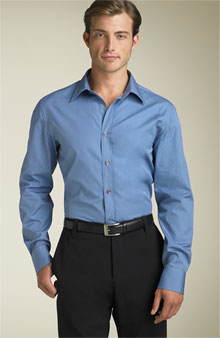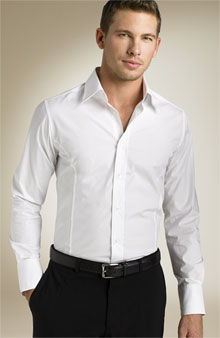 Ties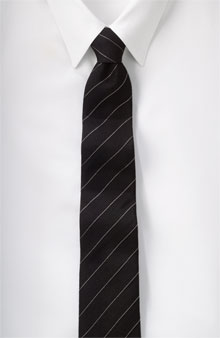 Ties are an integral part of mens dress clothes. A good tie can completely change your look. So if you only have the basic shirts and slacks, a good collection of ties can make it seem like you have a huge wardrobe.
There are so many patterns and variations in ties, that I can't really tell you a specific five styles or something that you should own. The best advice is to keep it simple; when you see a great tie, you'll know it.
You should definitely have a black one and one with a lot of navy blue. A brown is always good, and any dark-colored ties are usually safe. Just make sure they are made out of silk, and are well-constructed.
You can tell when you feel the tie, it shouldn't be too light and wimpy, or it won't hold a dimple and won't look right when you wear it.


Sweaters and Vests
These are a good add on for when it gets colder or if you're getting bored of your dress shirts by themselves. When choosing sweaters or vests, you should mix it up between crew necks and v-necks.
You can wear crew necks with just a t-shirt underneath, but with v-necks you'll need a collared shirt under them.
Sweaters are made from anything from cashmere to cotton. Cashmere is the best but it is super expensive, so a merino or wool sweater will usually do the trick.
Just pick one out that feels comfortable to the touch and keep it simple with the colors; you can't go wrong with black or nave blue.
Slacks
Again, the best thing here is to just get some high-quality slacks in the basic colors; black, navy, brown, and maybe a green. Here's the biggie- you want flat-fronts.
Pleats are dorky....avoid pleats.
They are not slimming and they don't look nearly as good as flat-front pants. I don't know how else to say it. Make sure your pants are flat-fronted. Don't know the difference? Here-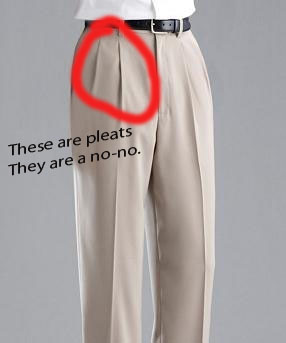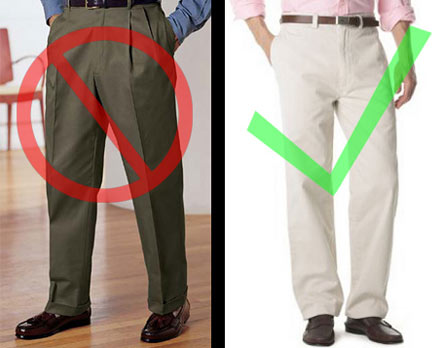 Watch my video reviews of the best products for men here...



P.S.>>This website is my job....which means I don't have a job... or a boss that tells me what to do. I built it part time putting in about 4 hours a week. Anyone can do this....click here to learn how.






Leave Mens Dress Clothes and go to homepage


Leave Mens Dress Clothes and go back to Mens Fashion Advice page