Dress Pants For Men
How to pick the right dress pants for men doesn't have to be complicated. Here are some tips to make it easy.
Sadly, we can't wear jeans everywhere so there are other mens pants we need to know about. These can range from khakis to chinos to slacks to cords to cargo pants.
Every guy should have a few good pairs of dress pants, some khakis, some chinos, and maybe some corduroys. First lets talk about fit.




Watch my video reviews of the best products for men here...




Make Sure It Fits
The length. There should be little to no break when your have your pants on. That means there shouldn't be a bunch of pant pooling around your ankles.
For jeans you'll want a little break, but they should never drag on the ground; you'll look homeless and people will start handing you their change.
But for other types of pants, especially dress pants- no break. Again your friendly tailor can help you out with all your pants problems.
Waist. Make sure its not too tight, and not too loose. A good rule of thumb is that you should be able fit two fingers in. In between your waist and the pants that is.
Too tight and your pockets pucker up while you're standing and that is embarrassing. Too loose and your shirt comes un-tucked and sometimes, heaven forbid, people will see your ass crack which is just like crack cocaine: illegal.
Rise. The rise in pants is the distance from the top button down to where the pant legs go their separate ways.
Too much rise and it looks like you're wearing a dirty diaper, and not enough rise and you'll have frog eyes which is heinous.
******Disclaimer******
Pleats and cuffs on your pants don't look good and they aren't flattering. Plain front/flat front is a much better look all around and all of your pants, regardless of type, should be this way.
Types Of Dress Pants For Men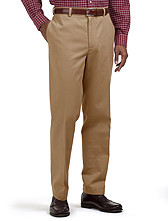 Khakis
These are always a good thing to have, just make sure they fit lean; they're not supposed to be baggy.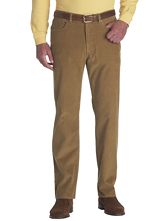 Corduroys
These are a step up from khakis as far as "dressy". Same general rules apply to fit.

Jeans
I've dedicated a whole page to the best mens jeans.

Dress Pants For Men
Yes, there are still people who have to dress up for work, or even like to dress up just to look good. So they need dress pants, and "they", might be "you".
You don't need many pairs of these to complete your wardrobe. You should at least have a pair of navy or black dress pants in wool, a grey flannel, and maybe a herringbone and you'll be set.
Below is an example of a herringbone pant on the right, and a navy wool pant on the left.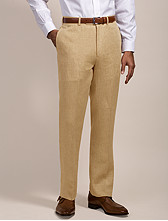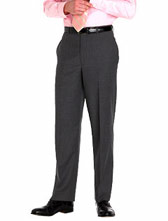 Watch my video reviews of the best products for men here...



P.S.>>This website is my job....which means I don't have a job... or a boss that tells me what to do. I built it part time putting in about 4 hours a week. Anyone can do this....click here to learn how.






Leave Dress Pants For Men and go to homepage